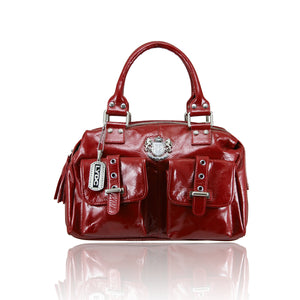 B3044 LYDC Real Leather Handbag in Red
You need an account to see price
Quantity must be 1 or more
Thats a real leather shiny hand bag with woven twin grab handlesand two front pockets decorated with buckle details. Logo engraved dog tag with crystals attached to handle and tassle on the zip make this bag eye-catching and outstanding. Hardware is LYDC branded in silver tone as well as a logo tab on the front. High quality satin branded lining with two zipper pockets and two slip ones inside. One extra zip pocket on the back of the bag. Thats a perfect position for both smart and casual outfits to bring a fresh yet classic addition to your looks! Main material: Leather Dimensions: L38 x W33 x D13cm.
Was £35,now £15
Shipping and Return
- Free shipping for order value over £300.00 (exclude VAT, UK mainland only)
- UK Standard Shipping £5,00 per carton (max 30kg per carton, UK mainland only)
- Northern Ireland Shipping £15,00 for 1-4 cartons
- Ireland Shipping from £14.00 per carton (max 30kg per carton)
- For other International shipping please contact us for a quotation.
Shipping Info
We use a number of delivery companies within the UK and EU. Most of the UK mainland orders are delivered within 3 business days. Delivery time to Scotland, Northern Ireland, and Ireland varies and might take up to 5 working days. We do not ship over the weekends and public holidays. EU shipping can take up to 15 working days.
Return
If you are not happy with your purchase, you can simply return it to us. All return enquiries must be made within 14 days of receiving the goods. All items of Products which are returned to us must be returned with their original packaging.
How to return or exchange an item
Please log in into
MY ACCOUNT
and send us a return or exchange request. We will then send you a free return label by email. We cannot exchange or refund the products which have been assembled or modified, in whole or in part.
This does not affect your statutory rights.
For more details about shipping and return, please
click here.